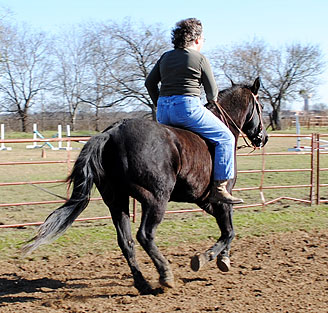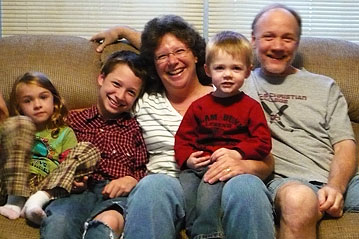 I have been very blessed with a wonderful family that supports and encourages my interest in horses. My husband Phil is an electrical engineer and son Josh is in 11th grade. Daughters Melissa and Veronica are all grown up, Veronica works for Whole Foods and Melissa married to Aaron with three beautiful children. None of them are "horse" people, although they do enjoy them. But even more than that, they enjoy seeing the happiness I feel after a day at the barn. They don't really understand it, but they are glad that horses brings me so much joy.
I am a middle-aged Mom and I am currently working from home with my canine buddy Luke for company, although I was an electronics engineer for many years. I have always loved horses ever since I was a little girl, and owned a wonderful mare named Cindy that I rode just about every day when I was in sixth and seventh grade. As an adult, the responsibilities of work and family did not allow enough time or money for me to pursue my passion for horses until very recently. Thanks to my wonderful husband Phil, (posing with our horse Dylan in the famous scene from True Grit with John Wayne) about six years ago I started back onto the road of horse ownership. A lot has happened since then, and through many twists and turns I have learned that we never really arrive, that life is a journey to be enjoyed and to learn from each experience. I have been blessed to own some wonderful horses and to make many new friends in my horse endeavors over that time. And I have learned many lessons along the way - one of the most important ones being that the secret to having a safe and enjoyable time with your horse is that - You find the horse that is right for you!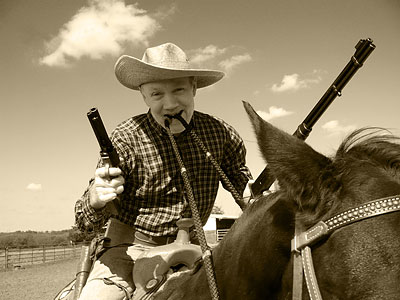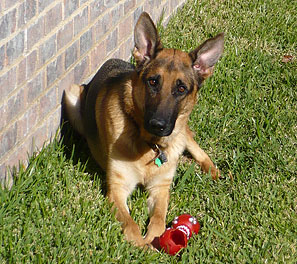 History of Golden Cross Ranch Horses
Dylan, a twelve year old black grade quarter horse, holds the honor of being our first Golden Cross Ranch horse and did a wonderful job fulfilling that role. Sadly, he was diagnosed with bilateral forelimb lameness and could no longer comfortably perform the requirements of our Golden Cross Ranch activities. In May of 2010 we found him a great home to retire in and enjoy with occasionally light riding that is well-suited to his current physical abilities. Because of this unexpected situation, we needed to look for a horse to continue with Golden Cross Ranch where Dylan left off. Pistol Bar T, a registered 7 year old APHA bay gelding is doing a great job filling the huge hooves that Dylan left. Pistol, as he is known, is busy learning his new duties and has already helped us with the creation of the tent obstacle we created for the Extreme Cowboy Association. We found Pistol and purchased him on July 30 of 2010, after looking at over thirty horses. He is proving well- worth the effort we put on our horse search to find the perfect Golden Cross Ranch horse and we are very excited about his role in the future of our company.