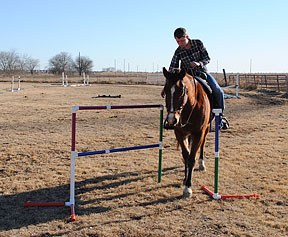 These testimonials are from folks who have received our Portable Trail Obstacles plans that we have for sale.
September 2014
Finally! Some plans for building training obstacles. I was delighted when I received the instructions for the Portable Gate obstacle. The instructions had a great explanation about why and how you should build these. Everything from a materials list to diagrams and a detailed set of instructions. You should check it out. Great resource!
Karen Pickering
Publisher, The Northwest Horse Source Magazine
These testimonials are from our customers who have purchased our Portable Trail Obstacles that were created from the plans that we have for sale.
June 2012
I LOVE these obstacles!! I ordered the Portable Vine Simulator and the Mailbox. They came in a just a few days after ordering! I immediately headed to my arena to put them up and found... them to be so easy to construct, I didn't even need my husband's help!! I was introducing my horses to both obstacles in no time! I am absolutely thrilled with Golden Cross Ranch Obstacles and I highly recommend them. After having searched the internet to find obstacles, I am delighted to have found this company - very high quality and yet reasonably priced! Because of Golden Cross Ranch, my horses and I will be ready to head to ACTHA/Competitive Trail rides this summer. YeeHaw!! THANK YOU GOLDEN CROSS RANCH!!
Dea White
Spokane, Washington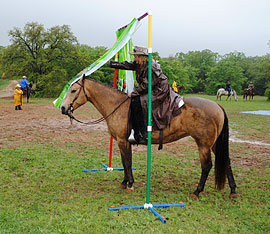 August 2010
Dear Nancy,
Many thanks for the opportunity at the ACTHA ride to practice with your vine simulator. What a cool obstacle! During the actual ACTHA competition, my horse and I managed to knock down the entire simulator. A bit embarrassing but I was amazed at the quick reset, and of course, very grateful both of us stayed safe despite the unintended demolition derby! It was great to get back to camp, see another simulator set up including the various different "vines." Thanks for letting me play! In just a few short minutes, despite rain and wind, I was thrilled that my mare was confidently negotiating your well-designed obstacle. Your products make perfect sense for anyone that rides ACTHA or trains horses. Fun, safe and easy. Doesn't get any better than that!
God Bless you and your endeavors!
Betsi Bixby
ACTHA rider
June 2010
Dear Nancy,
I just wanted to take a moment to thank you so much for loaning us the use of your fantastic portable Vine Simulator for the May 29, 2010 ACTHA sanctioned fund raiser for Grace Lake Ministries! Not only was the portability of the Vine Simulator a heaven sent, but the easy set up and tear down was awesome! We love how all the pieces disassemble so easily and fit snuggly in their own carrying bag along with the tools needed for set up. The color scheme and design materials were beautiful and added an extra boogey man factor for the horses, what a great challenge the simulator turned out to be! While some of the horses breezed through the Vine Simulator, others tried to bully their way over it or sideswipe it, making your choice for a flexible and shatter free PVC type of material an excellent decision. The simulator would give and flex accordingly, but wouldn't break or fall apart. Having the feet fastened securely into the ground was an extra guarantee that his obstacle was indeed one to be reckoned with! Overall, I think your portable trail obstacles are an asset to any trail ride, training program, or equine event, and just plain FUN! Your products are of high quality, superb craftsmanship, and can certainly take a beating! We love the work you do and look forward to seeing more of your wonderful ideas come to light!!
Sincerely,
Brandy Hofmeister
ACTHA Vine Simulator Judge, and Riding Instructor
P.S. Having worked with Warm bloods and Show Jumpers all of my life, I would STRONGLY recommend your desensitizing kits to the Hunter-Jumper, Show Jumper, and Dressage crowd. It is my firm belief that equines of all riding disciplines can and do benefit greatly from your products! (Just thought I'd throw that out there, they do seem to be a higher strung crowd!
June 2010
Nancy, several church members have used the "Vine Stimulator" donated by you twice during church trail rides/activities. The riders have really enjoyed it...can't say that for the horses!!! Several of them try to run through, knock down..but in the end they go through it with flying colors...after several tries!!!
Thank you again for your generous donation!!! Your products certainly are an added plus out on the trails, just for fun, play days or in the arena setting...
Happy Trails
God Bless You!!
Dennis King
Pastor
Saddle Up Cowboy Church
June 2010
Dear Nancy,
Thank you for allowing Grace Lake to use your portable obstacles.
Golden Cross Ranch has put together the perfect portable obstacle for use at trail rides, training your horse, and just playing with your favorite horse buddy.
Grace Lake Ministries completed their first ATCHA Competitive Trail Challenge on May 29, 2010 at Brockdale Trailhead on Lake Lavon in Lucas TX. Nancy Golden allowed us to use the portable obstacles, the vine simulator and the mailbox. The obstacles are assembled quickly and easily, come with their own bag for transport and are sturdy and secure.
Having access to sturdy obstacles that transport easily is a benefit when placing obstacles on a 6 mile trail. We were able to erect obstacles quickly and remove easily after the ride.
Thanks again for your generous support of our first CTC.
Sincerely,
Suzanne Creel
Grace Lake Ministries CTC Ride Manager
June 2010
Hi Nancy,
I really enjoyed working with my horse on your vine simulator and mailbox obstacles during the ACTHA ride at Lake Lavon. They were just challenging enough without being too scary or unsafe should your horse have a problem with them. The fact that they were very portable - lightweight, easy to transport and set up made them perfect for the organizers to use. Looking forward to seeing what other obstacles you come up with!
Thank you again for providing them for the Gracelake Ministries group!
Sylvia, ACTHA Member and Grace Lake Ministries CTC Ride Participant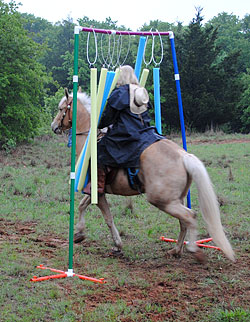 June 2010
Hi Nancy.
Just want to take the opportunity to "Thank You" for allowing us to use the "Vine Stimulator" in our CTC April 17th. Although, the constant rain & high winds did not help , I have to say the obstacle held up great!! If you remember, it was knocked over by one of the horses that well "would just have nothing to do with it!!". I was impressed to how quickly it was put back together and that no one was hurt in the process.
I would recommend your products to anyone wanting to use portable obstacles that are attractive, sturdy and reliable!!!
Thanks again,
Raquel Martinez
Ride Manager, Saddle Up Cowboy Church CTC