Our trail obstacle plans will show you how to build the trail obstacles shown on this page.
These obstacles are effective training tools that are fun to use, portable, can be set up in five minutes AND weigh less than your saddle!
Portable Vine Simulator / Cowboy Curtain: Our Most Popular Obstacle!!!
This obstacle is known by different names – the ACTHA refers to it as a vine simulator, although it is also known as a cowboy curtain or just as a hanging rope obstacle. The video shows it being used as the first obstacle in an ACTHA competitive trail challenge hosted by Saddle Up Cowboy Church in Decatur, Texas on April 17. It was also used by Grace Lake Ministries in their ACTHA CTC on May 29. Important Note: The video shows the pool noodles hung by cable ties but that is not recommended since it leaves a loop which may be large enough to get something hung up in. You can shorten the cable ties to eliminate that possibility, but we find that loose leaf binder rings that are available at any office supply store also do a great job for hanging objects from your obstacle - and they are easier to put on and remove.
The obstacle is approximately 8.33 feet tall and approximately 5 feet wide. It stakes into the ground and it easily withstood our wintry weather during testing – with winds out of the NW at 23 miles an hour and gusting to 36 miles an hour.
Vine Simulator/Cowboy Curtain Portable Trail Obstacle Plans: $12.00: To purchase go to our Shop
We love the versatlity of the vine simulator. We had a great time trying different materials to hang from it including pool noodles, real green vines, a shower curtain, and a camoflauge tarp. The list of what you can hang from it to challenge yourself and your horse is almost endless, making this an obstacle that can be "different" every time you use it!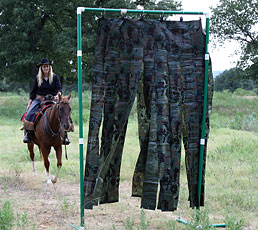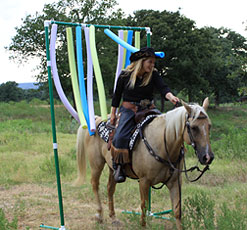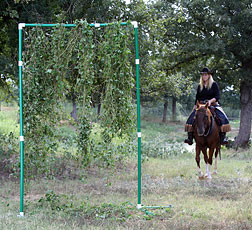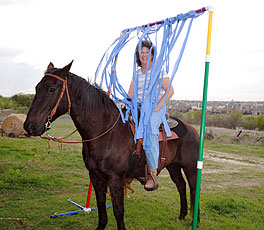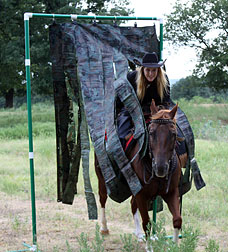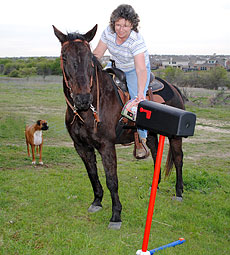 Mail Call! We are proud to introduce our next trail obstacle, one that has been around for years but never with such portability! Our mailbox obstacle is easy to set up and take down, and provides a great way to practice one of the most widely used obstacles that is found in many different competitions. The fully functional full-sized mailbox sits on a 40" combined length of our beautifully colored 1 1/4" PVC pipe. The base is staked to the ground to insure that it stays in place. As you can see from the pictures - Dylan figured it out pretty quick. I think he was wanting to check out the mares in my latest Horse Illustrated magazine!
The Mail Box Obstacle was used at the ACTHA trail competition hosted by Grace Lake Ministries in Lucas, Texas on May 29.
Mailbox Portable Trail Obstacle Plans $10.00: To purchase go to our Shop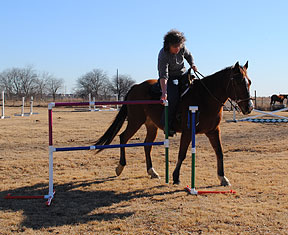 Our portable gate design is finalized! Our redesign has resolved the issues we were having with enthusiastic riders refusing to let go of it and pulling it apart. It has successfully stood at the barn for several months now for riders to practice with. Learning to open and close a gate is a great skill for every horse and rider to know and shows true partnership as horse and rider work together to accomplish the task. Many people want to practice opening and closing gates from horseback but if there is a herd of horses or cattle on the other side for an audience then that can be rather difficult! Our portable gate allows you to set up and practice anywhere. Great for both training and desensitizing work and just plain fun! Click on Portable Gate or visit our Facebook page to see how it operates.
Portable Gate Trail Obstacle Plans $14.00: To purchase go to our Shop

Our Most Challenging Obstacle - The Cavern!!!!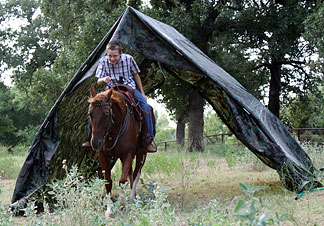 I believe our tent obstacle, affectionately known as "The Cavern," is our most challenging obstacle yet! It is 7 feet long and 8 feet adjustable up to 9 feet high. It will take a brave horse to calmly walk through this scary looking beast. Long enough to be challenging, yet short enough to not be overwhelming, we believe that our unique approach of using flexible pvc provides an extra safety factor while making this an obstacle to be reckoned with. You can secure the tarp with clamps. You can make it even more scary by leaving a few off so that it has some flap to the tarp, or for less seasoned horses you can secure the tarp tightly so that it is not seen as a horse eating monster. Either way - this obstacle will provide your horses with a challenge that will show off their trust in you!
Tent Obstacle Trail Obstacle Plans $15.00: To purchase go to our Shop
**Please Note: The tent obstacle may weigh in more than your saddle at around 50 lbs. and is a bit more complex to set up so would take longer than our "5 minutes" slogan, but it still maintains the same portability that is characteristic of all of our trail obstacles.
Special Package Price!!!!
All four sets of trail obstacle plans would cost $51.00 if purchased individually but if you would like to purchase all four sets of plans at one time you can do so for the special package price of $28.00.
Package Price: Mailbox, Vine Simulator, Gate and Tent Obstacle Trail Obstacle Plans $28.00: To purchase go to our Shop
Why Furniture Grade PVC For Trail Obstacles?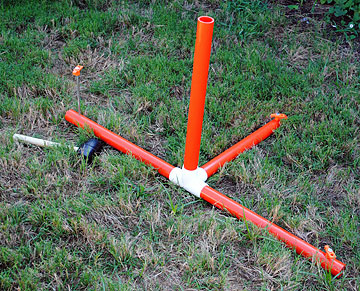 HIGH QUALITY and built to last in the U.S.A.
high gloss finish with no unsightly writing such as found on regular schedule 40 PVC
available in a beautiful assortment of colors
U.V. stabilizers and titanium dioxide minimize the effects of sun and
weather damage and protects against degradation
impact modifiers in furniture grade PVC add strength and durability
colors are uniform throughout the pipe
contains no lead or phthalates (no harmful materials)
Although you can choose to buy your furniture grade PVC from the manufacturer of your choice, we recommend our supplier, C & S Plastics. We provide their contact information in our plans. We did not skimp when we selected the materials for our obstacles. There is no comparison to what you would find available at your local hardware store. We also found that the ability of our obstacles to flex have made them a safer obstacle for horse and rider - if a horse decides to shove against the obstacle, it has enough "give" to prevent injury with enough stability to not come apart during the attempt.
Our unique staking system allows you to set up your portable trail obstacles almost anywhere.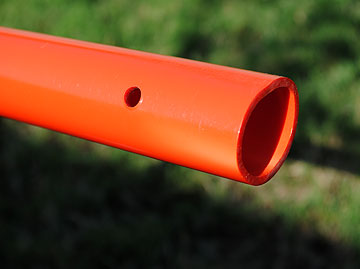 These poles should not be used under excessively cold weather conditions since it is known that PVC becomes more brittle in cold weather. While our products are U.V. coated which helps prevent the breakdown of material due to exposure to the sun, as with the use of any equipment, it is important to constantly inspect the condition of the equipment to ensure that it is undamaged and use it only for the purpose intended. While no specs are published concerning the impact resistance of PVC, we have pictured here one of the PVC poles that was used to stake down an obstacle during the Grace Lakes Ministry Competitive Trail Challenge. It seems this particular pipe received a great deal of abuse from 1200 lb. horses wearing shoes coming down on it. We were thrilled to see that the PVC pipe "smooshed" instead of shattered. No one noticed until taking the obstacle down that the pole had even been damaged because it remained usuable and did its job of holding the obstacle in place!
Our Vine Simulator/Cowboy Curtain Was Used A Great Deal During the Extreme Cowboy Association's 2010 World Show Hosted by Craig Cameron
"A 1100 pound horse hitting it at speed is a grueling test for any obstacle. The good news is that it is safe and no horse was hurt when the collisions took place." - Bill Hull, Extreme Cowboy Association