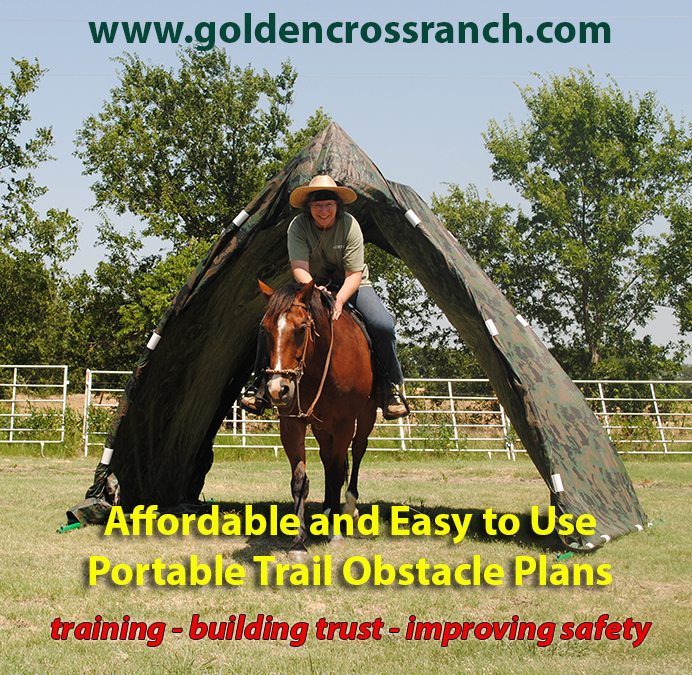 PRESS RELEASE: PLANS FOR OUR PORTABLE TRAIL OBSTACLES ARE NOW ON SALE!!!
Visit Our Portable Trail Obstacles Page to see descriptions of each obstacle. We no longer offer physical inventory but are now offering the plans for our Portable Trail Obstacles for sale so that you can build your own! Each obstacle plan comes with a materials list, a numbered exploded view of the obstacle to aid assembly, detailed step by step instructions with pictures, a section on how to use your obstacle, and safety information.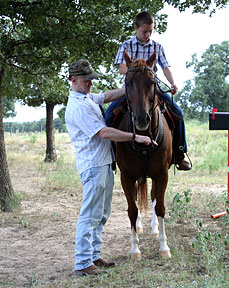 DO YOU WANT TO:
Train and Desensitize Your Horse?
Practice Trail Obstacles for Fun and Competition?
Have Reliable Obstacles that Set Up Quickly and Easily?
Use Obstacles that are Ideal for both on the Trail and in the Arena?
Teach your Horse to be Confident and Safe when Encountering the Unexpected?
Have Fun and Interesting Things to Do with your Horse?
"I believe that desensitizing horses is a critical and often overlooked part of their training. Introducing "scary" objects to horses in a systematic way teaches them to control their prey animal instincts and to trust their human partner, resulting in a safer horse which is always an important consideration when engaged in any riding activity." - Nancy Golden
At the Golden Cross Ranch we are all about finding ways to have fun with your horse while improving your horsemanship. Our Portable Trail Obstacle designs will help you strengthen the bond between you and your horse because using them encourages you to focus on each other, both on the ground and in the saddle. The plans for these products we are offering have been developed and tested by our family and my horses and I personally use these products on a weekly basis as part of our time together. I am very excited to share with you ways to bring you and your horse closer together and to bring the fun back into riding!
We are very excited about our unique approach to creating trail obstacles that are not only durable and weather resistant, but also light weight so that they can be taken anywhere you want to ride. Our Portable Trail Obstacles are practical, pretty, and portable - lightweight enough to carry anywhere, easy to set up and sturdy enough to do the job and look good doing it! Furniture grade PVC pipe is easily configured to form each obstacle by using pvc pipe connectors. Our plans have everything you need including a materials list, a detailed instruction sheet, and an exploded view of the obstacle for added ease in assembling the obstacle. We are proud to offer a portable vine simulator (also called a cowboy curtain), a portable mailbox and a portable tent, and a portable gate - just click on the Portable Trail Obstacles Page for details.
You can watch a brief video on how our obstacles work - We chose the mailbox obstacle for our demonstration because while it is our simplest obstacle, it contains the basic elements of all of our obstacles which allows you to see how quickly and easily you can put our products together out on the trail.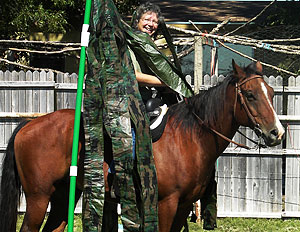 Like our page and add your own adventures as well as any horse stories or inspiration you would like to share! Check often for special promotions and contests!
A PORTION OF OUR SALES GO TO CHARITY!
Our current fundraiser is HEAVENLY HOOVES Therapeutic and Recreational Riding Center. Their mission is to enhance the quality of life of individuals with cognitive, emotional or behavioral challenges by providing interactive experiences with horses in a safe environment, which builds confidence, improves social skills and coping skills, promotes emotional healing, and help clients make positive changes in their lives. Please consider joining us in supporting this wonderful charity!
PLEASE CONTINUE TO CONSIDER OUR OTHER CHARITIES:
FREEDOM HORSES - a nonprofit organization created by a group of dedicated individuals who wanted to make a difference in the lives of survivors of domestic violence, sexual assault and other violent crimes. You can learn more about them at FREEDOM HORSES
GRACE LAKE MINISTRIES - You can learn all about their amazing therapeutic horse ministry at GRACE LAKE MINISTRIES
CAMP TONKAWA - You can learn all about their mission to reconnect mankind with nature with their "hands on" teaching of ancient Native American skills of nature awareness and primitive wilderness survival at CAMP TONKAWA
If you have a charity you would like us to consider please email us and let us know!
"And now, dear brothers and sisters, one final thing. Fix your thoughts on what is true, and honorable, and right, and pure, and lovely, and admirable. Think about things that are excellent and worthy of praise."
This scripture represents what we try to do in all of our all of our endeavors, business and otherwise - to focus on excellence. Whether it is creating plans for our customers or developing new trail obstacles, you can be sure that we are giving you our best effort to create a product that is a good value and helps you to have fun with your horse. I hope you'll buy our trail obstacle plans, but more importantly, I hope you will see the foundation that our company stands on - how a loving God sent His only Son to die for us so that our imperfections can be washed away for a place in heaven that awaits the end of our earthly journey. I'm hoping there are horses in heaven too - Jesus rode a white horse after all!